Entertainment
Has Facebook account
Has Twitter account
Full page has video
Full page has music
Full page has an offer
Programmes sold here
75 Preston Street
Faversham
Kent
ME13 8NY
David & Nuala Welcome You To The Vaults – Cask & Kitchen, Faversham.
"We are both local people and believe in Faversham. We recognised a niche in Faversham for a good quality drinking and eating establishment where you can get a great steak and a warm welcome!"
The Alexander Centre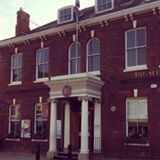 15-17 Preston Street
Faversham
Kent ME13 8NY
01795 594460 - ask for: Lynsey
The Alexander Centre Trust

Set up in 2010 to take over the management of the Alexander Centre from Swale Council, we are renovating the beautiful period features and upgrading the facilities, so that the Alexander Centre can take its place at the heart of the community. It is a place for local business and leisure activities, weddings and training courses, classes, fairs and support groups.